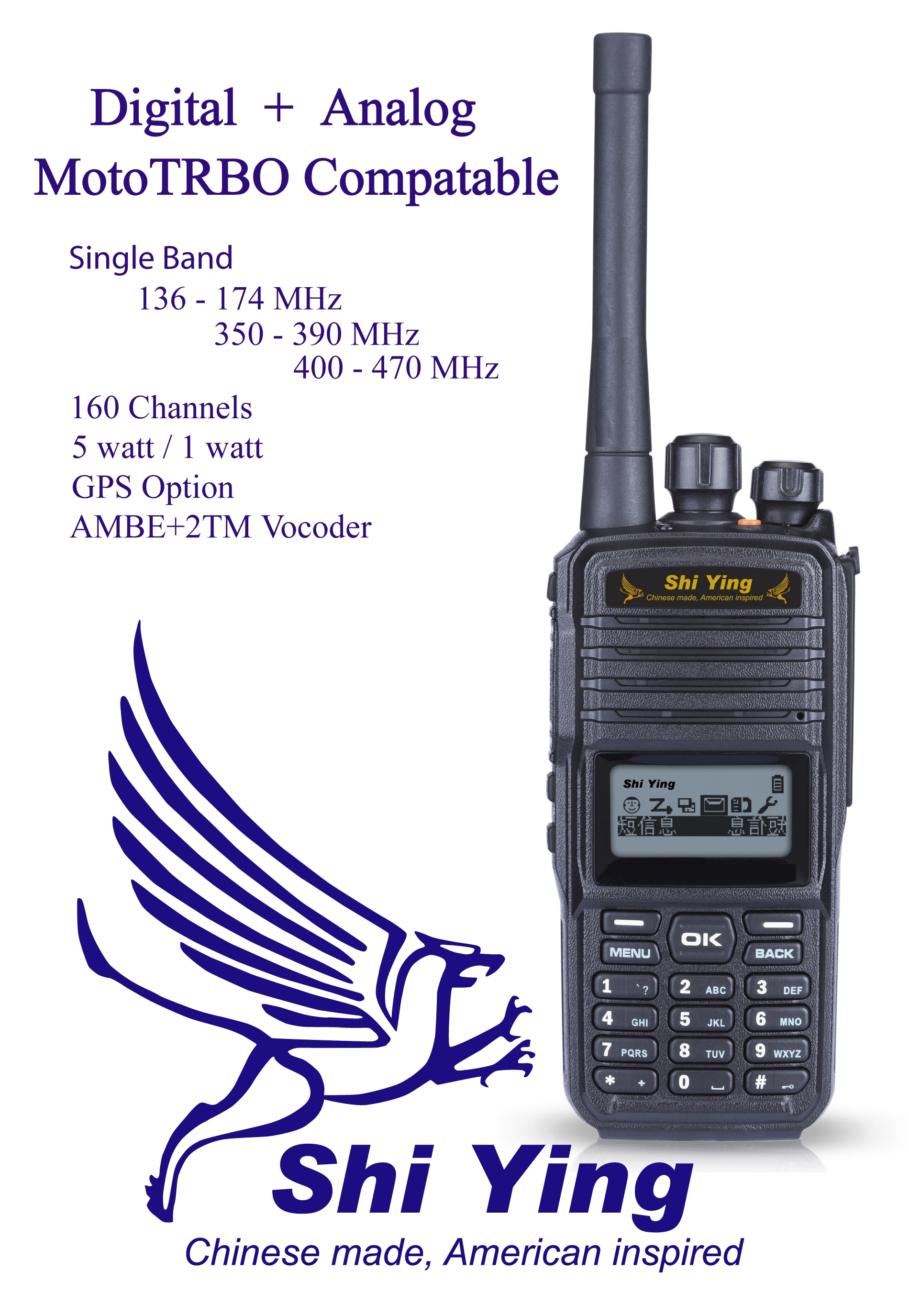 Specifications

MotoTRBO compatible
Single Band Radio
Digital  +  Analog  Modes
Frequency Ranges (one range per radio)
  136-174 MHz / 350-390 Mhz / 400-470 MHz
160 Memory Channels
Programming software avaliable
50 Zones
GPS Optional  (good signal precision, < 10m)

Transmitter


Output Power
  High Power - 5 watts
  Low Power - 1 watt
FM Modulation
  12.5 kHz: 8K50F3E
4FSK Modulation
  12.5 KHz, data only: 7K60FXD
  12.5 kHz, data and voice: 7K60FXE
Digital Vocoder  -  AMBE+2TM

Receiver


Analog Sensitivity  -  0.25 uV (12 dB SINAD)
Digital Sensitivity  -  5% BER:  0.25 uV
Intermod Rejection  -  60 dB
Adjacent Channel Selectivity  -  60 dB
Audio Output  -  1200 mW
| | |
| --- | --- |
| | Package includes: Radio, battery, belt clip, charger with US transformer, antenna, manual, software download and programming cable. |
Retail Price (without GPS)  -  $399.95

| | | |
| --- | --- | --- |
| Special One-time Introductory Price | $299.95 | This Offer Expires Feb 6, 2014 |
Please read and understand these details:
ShiYing is a branded name from a major Chinese manufacturer.
These radios are still in the China factory and initial supply may or may not have FCC certification or ShiYing logo.
All Chinese factories are closed for the Chinese New Year holiday until Feb 7th.
After determining which frequency ranges will be needed, my order will be placed on Feb 7th and should be delivered within two weeks.
Orders should be delivered to US customers between Feb 21 to Feb 28.  If not delivered by Feb 28, you may cancel your order and receive a full refund.
Refunds may be requested between Feb 7th and delivery date.  After delivery date only warranty exchange is available.
Payment for your order will be charged to your credit card or PayPal account when your order is placed.
Radio has factory warranty of 1 year.  Any radio deemed defective within 30 days of delivery will be replaced at dealer expense, less shipping.
After initial 30 warranty period, warranty repair will be handled through the factory or with factory refurbished replacement from dealer.