AnyTone Dual Band Mobile
Anytone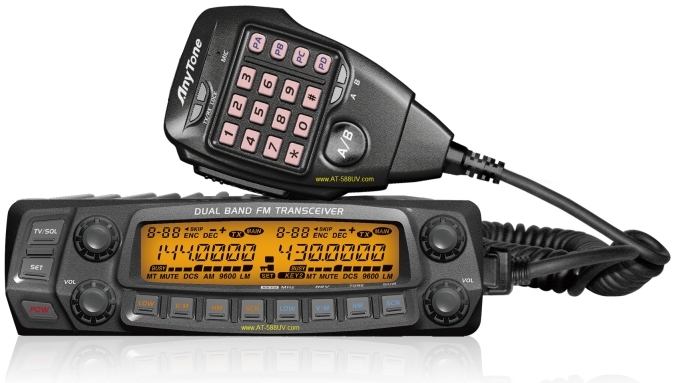 AnyTone AT-5888UV
Features:
Receive Range (FM) 220-260, 350-400, 400-490 MHz
108-180 MHz (AM or FM Mode)
118-134 MHz (AM Aircraft Band)
Transmit Range (FM) 134-174, 400-490 MHz
Output Power 50, 35, 10 & 5 Watts
Bandwidth Wide (25 kHz) & Medium (20 kHz) & Narrow (12.5 kHz)
Tuning Step 2.5, 5, 6.25, 10, 12.5, 15, 20, 25 & 50 kHz
True Dual Receive - receive two signals at the same time -- second side can be muted while transmitting
Separate Tuning Knob and Volume Control, each side
Separate Function Buttons, each side
Either side can be VHF or UHF at any time - VU, UV, UU, VV - One side can be VFO and the other side Memory at the same time
Cross-Band Repeat
Alphanumeric Display
758 Memory Channels
CTCSS, DCS, DTMF, ANI, PTT ID, 2Tone/5Tone Encode & Decode
Scrambler Included
DTMF Microphone
Detachable Control Head (CAT5 separation cable)
Computer Programmable
All buttons on radio and mic are back-lighted
FCC Part 90 Certified (FCC ID is T4K-5888UV)
 Software & Manual
Yahoo Groups & Other Forums
Customer Reviews
Anytone Dual Band Radio
By Nathan
Been playing with the radio for a day or two and figured I would post a review. First off, great customer service! Radio is of fairly decent build quality. The only thing I could comment negatively about it is the rubber protective sleeve for the microphone plug, it doesn't quite fit as snugly as I would like. The faceplate is removable and a standard Cat5 cable extends from the unit quite effectively. Programming software only took a few minutes to figure out,and it was quite literally plug and play. Being able to adjust all of "default" power on settings through the software is nice. Programming through the nobs/controller pad is not impossible, just a little time consuming. I'm not an expert when it comes to reporting on frequency drift etc etc, however with some basic tests on a home built j-pole antenna, I'm getting good audio quality reports on transmit, and fairly decent audio quality on receive both on UHF and VHF. Only one wish list item, would be a courtesy tone on transmit with the crossband repeater function. My current frequencies programmed are both Wide band HAM and narrow band Public Safety, and the radio sounds good on both. -N3DEW


Great transmit frequency range
By Stan
As a seasonal Forest Service employee, I like being able to keep in contact with FS Dispatch in my POV, something some limited ranges of the other "name brand" radios would not allow me to do. I agree the mic cord could be a bit longer, but have remedied that problem with a 36 inch M/F RJ-45 extension cable. Also agree the material for the head bracket needs to be heavier gauge. Aside from that, it's a great radio and I plan to buy two more.


Great Radio
By George
Having been a ham for 32 years and also having owned many VHF/UHF radios of most every brand I am truly impressed with this unit. The transmitter output equals or exceeds specs and the receiver is very hot. I have had NO intermod. I have tried it on receive in the ham bands and public service as well as the 220 Mhz receive and it is impressive. Add to this 700+ memory channels and cross-band repeat and you simply cannot beat it, price not even considered. If you consider the price, well, you will be more than satisfied. Now to customer service. Ed and Import Communications is certainly a rare breed. You will never have an issue ignored, neglected or left by the wayside. And he and his entity will be completely fair and super fast in their actions and response. In this day of pay, wait fuss and where you are just a number, Ed has raised the bar to what it should be. It boils down to trust and a willingness to help. Ed and his company do that and more. If you think you can get a radio a few bucks cheaper from "overseas" well you can. Would I do it? NO! The savings are NOT worth the security of having Import Comm. just an email away. 73, George N5NNS (N5 No Non Sense)


Better than I expected!
By Michael
Received radio, programmed via factory software and via Chirp with no issues. Worked my local repeaters with reports of very good audio. Even worked .52 simplex stations that I couldn't work with other mobile radios. Great communication from Ed made this purchase a very pleasing experience.


Great Radio
By James R
I also have a Yaesu FT-7900 with single display....Love theAT 5888 UV radio with the alpha numeric display instead of just the frequency...As soon as I am able I am going to purchase another and sell my Yaesu...


My first mobile radio
By Don
As the title suggests, this was my first ever purchase of a UHF/VHF mobile Ham rig. Everything about this radio has been great. I have 4 complaints about this radio; 1) The weight of the characters on the display (I wish they were a little thicker), 2) the mounting bracket for the face plate is wimpy (face plate wobbles around a bit), 3) the mic cable is very stiff and too short, and 4) I wish the mic cable plugged into the front of the face plate, rather than the side. My radio is remote mounted in a 2010 Nissan Xterra. The main body of the radio is mounted in the far back right cubby hole where I have a 20 amp cigarette lighter socket. Yes, I am running this radio on a cigarette lighter socket with a Radio Shack solderless plug (http://www.radioshack.com/product/index.jsp?productId=3806057). The face plate is mounted just forward of the shift lever on top of the center console. I have a 15 foot Cat-5 network cable connecting the base to the face plate. Because of the short and stiff mic cable, pulling on the microphone flexed the face place mount bracket a lot. To remedy this, also from Radio Shack, I purchased a female-female network connector and added 3 feet of Cat-5 cable to the mic cable. Problem solved! Performance: So far, so good! I've made mobile-to-base simplex contacts over 35 miles away with good clarity and sensitivity. Switching between the active and stand by frequency is super easy. The controls on the microphone are well laid out. The menu functions can be a little cumbersome in a mobile because the menu knobs are so close to the display, your hand often hides the display. The crossband repeater functions very nicely. The speaker in the microphone is a bit weak. The speaker in the body of the radio is ok, but because of where I have the body mounted, I had to purchase a remote speaker, which is sitting under the drivers seat. Between the mic and the extra speaker, I have plenty of audio now. I haven't had a chance to play with the airband AM receive as of yet, but with the up coming airshow season, I'm planning to utilize that feature to its fullest. This radio as a lot going on. I've had my radio for several months now and I'm still learning all of the features and functions. The single biggest piece of advise I can give about this radio is plan on programming it through a PC. Although programming from the front panel is possible, it's a little cryptic on how to store a frequency in memory. So much so that I still don't know how, even after reading through the manual a few times now. Yes, I would suggest you buy this radio. In fact, I intend on buying a second one for use at the house on a 50 foot tower. Very much worth the money, in my opinion. lastly, thank you Ed for the great customer service! It's always a pleasure doing business with you.


Works Great
By Richard
I received the radio and on a quick look of the Manual I thought OMG!! Am I ever going to be able to figure this thing out? Well, after diving in it's not that bad. The programing is fairly straight forward. Install in my vehicle was much simpler than other radios I've installed in the past and it seems to be working great so far. The audio is better than many very expensive radios I've had in the past including the big "M" brand. On transmit I have had on reports of any signal issues and it hits all the repeaters I need throughout the Valley. All in all a great little radio for a great price. I wish they had these out years ago because they would have landed in every piece of apparatus in our station. BTW – Ed is great to deal with and very responsive to the customers.


Great Radio for the Price! Hard to beat anywhere!
By Daniel
I got one of these radios after hearing one on the air, Great Price! and includs a full Separation Kit, USB Programming Cable and Software. The Open Source programming software "Chirp" works well with this radio (get Chirp daily updates). I'll be focusing mostly on features unique to this radio and not often found on most radios in its class. Some low score reviews can be found on the internet, where the issue described seem to be a "Birdie" (a false or phantom signal). A common issue in most modern radios as they have small but powerful microprocessors inside that can occasionally emit unwanted signals. This radio, unlike most has a great feature called "CPU Clock Frequency Change" found on Menu #06 [CLKSFT]. It allows you to shift the CPU frequency to help eliminate, reduce or at least move any "Birdies" that may interfere with the receiver. Receive "Sensitivity" is far above average, great for weak signal work. Like most radios made today, the "Selectivity" is only average. I'm currently testing it as a base radio and I'm only a few miles away from a very RF active mountain top with many repeaters and broadcasters, and haven't had any problems. The [MUTE] feature on Menu #25 works well but has a slight speaker pop sound when both bands are receiving, not a big deal. The speaker is nice, loud and clear. CTCSS & DCS Decode is very fast. Transmitter works well. It makes proper RF power output (+/-5%) depending on supply voltage, just like most radios in its class with 4 Power Levels, VHF: (High=50W) (Mid1=20W) (Mid2=10W) (Low=5W) & UHF: (High=40W) (Mid1=25W) (Mid2=10W) (Low=5W). The radio is 2013 Narrow band compliant (2.5KHz deviation), very important to anyone who might need if for use on commercial and/or public safety frequencies. There is a small and relatively quiet cooling fan on the rear of the rig that helps keep it cool, especially for those long transmissions. The transmit Audio is well equalized and sounds very good, not overdriven, not tin-penny and not muffled. Both CTCSS & DCS encode at the proper levels. Another rare feature (undocumented in the manual), usually available only on more costly commercial or public safety radios and is known by several terms like "Squelch Tail Elimination", Anti Squelch Crash", Reverse Burst, etc. When using repeaters equipped with compatible decoders (most commercially made machines), that require a CTCSS or DCS signal to access, this radio sends the proper signal that causes the repeater to mute the repeat audio before the signal drops. A simple description of how it works... the radio continues to transmit for a few milliseconds after you release the PTT button, while the radio sends the proper signal to the repeater that causes the squelch mute to engage before the signal ends. This gives the repeater a very smooth and quiet sound and makes prolonged use very comfortable as you won't hear any squelch noise, except on rare occasions. Most repeaters can achieve a similar muting sound via an audio delay board in the repeater controller. The Microphone has several advanced features. Back-lighting is above average and brightness can be changed through the menu along with the brightness and background color of the display. You can choose 32 levels for each of the 3 colors (Red, Blue, Green) for the display color. The microphone has 2 separate LED's clearly indicating which band your on, (A or B) and 2 multi-color LED's, Green for Received signal, Red while transmitting. The band select button is large and back-lit blue, easy to see, large PTT and UP/DOWN buttons. Of course it has a full 16 button DTMF encoder and 4 of the keys can be assigned for many functions like Power Output, Repeat/Simplex, Reverse/Input Monitor and others. It also has a small speaker inside the Microphone (not loud, but ok), great for times you have a lot of distracting background noise and you want to hear the radio, controlled through the Menu. Overall, the Microphone has a great look, good weight and feels like a professional/ commercial Mic. Compander feature Menu #17 [COMP] works perfectly. Mostly used when operating in narrow band mode. It helps minimize noise and maximize the dynamic range of your voice, best used only when other stations support Companding. The words Compander / Companding is simply a linguistic blend of the words, Compressing and Expanding. Cross Band Repeat feature is fantastic! Menu #44 [X-RPT]. The audio quality is as good as it gets. It's a good idea to set the time-out-timer, Menu #41 [TOT] to a reasonable time limit to ensure you don't overheat the rig. If your going to use this with repeaters that have long hang times and/or long conversations, consider using an additional (larger) external cooling fan. The body of the radio is the heat sink and is well designed, as the fins are facing up, which helps a great deal for proper heat dissipation. The radio has many more features, too numerous to outline in an initial review, you'll be happy. If you are comparing this radio to the Yaesu FT-8800 or FT-8900 Dual Band mobile radio, the display looks similar, but most everything else is very different, all for about $150 less.


GREAT RADIO!
By Steven
I cannot add much more than the other reviewers. The only thing I've noticed is the mic can be HOT(Audio). Using a Baofeng HT for so long got me in the habit of almost eating the mic. I've had to learn how to back off from the mic with this radio.


Firmware needs a few tweeks
By Bob
I have to agree with all the other reviewers of this radio. Great audio, hears better than my ts-2000. I like that you can also receive the AIR band. My only complaint is that you can not use the reverse frequency function if the radio display is in channel or name mode, it has to be in frequency mode. It also would have been nice if you could have made the programming to have 440 on the "B" side only, or both like it is now. I hope the Manufacturer reads some of this and possibly comes up with a firmware mod.


Absolutely AWESOME Radio!
By Dave
Been a HAM since the '60s - Call sign WB2ANR - this is the best radio I've had, and I've had some real DIYs like a Navy RBM-4 and ARC-3 transmitter. The radio is easy to use once you read the manual and play with it a few days. The best feature is that the radio can be separated from the head, and they connect together with standard Internet cables (RJ-45, CAT 5 ot CAT 6) which are cheap and are everywhere. I installed this radio in my Jeep TJ - see: http://www.net4truthusa.com/JeepRestoration/HamRadio.htm


Create a review
.
Account Login
Mailing List Signup