AnyTone Dual Band Mobile
Anytone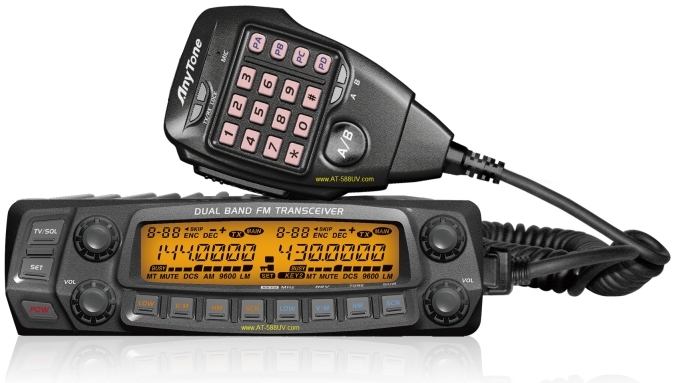 AnyTone AT-5888UV
†
Features:
Receive Range (FM) 220-260, 350-400, 400-490 MHz
108-180 MHz (AM or FM Mode)
118-134 MHz (AM Aircraft Band)
Transmit Range (FM) 134-174, 400-490 MHz
Output Power 50, 35, 10 & 5 Watts
Bandwidth Wide (25 kHz) & Medium (20 kHz) & Narrow (12.5 kHz)
Tuning Step 2.5, 5, 6.25, 10, 12.5, 15, 20, 25 & 50 kHz
True Dual Receive - receive two signals at the same time -- second side can be muted while transmitting
Separate Tuning Knob and Volume Control, each side
Separate Function Buttons, each side
Either side can be VHF or UHF at any time - VU, UV, UU, VV - One side can be VFO and the other side Memory at the same time

Cross-Band Repeat

Alphanumeric Display
758 Memory Channels
CTCSS, DCS, DTMF, ANI, PTT ID, 2Tone/5Tone Encode & Decode
Scrambler Included
DTMF Microphone
Detachable Control Head (CAT5 separation cable)
Computer Programmable
All buttons on radio and mic are back-lighted
FCC Part 90 Certified (FCC ID is T4K-5888UV)
†
†
†
†
Software & Manual
†
Yahoo Groups & Wiki Site
There are two Yahoo Groups and a new Wiki Site that includes
operational instructions in real English, FAQ section and more.
†
†
†
†
†Radio is out of Stock
New Stock due Early December
†
Radio with programming cable & separation cable - $299.00
Radio with no cables - $285.00
†
Customer Reviews
Anytone Dual Band Radio
By Nathan
Been playing with the radio for a day or two and figured I would post a review. First off, great customer service! Radio is of fairly decent build quality. The only thing I could comment negatively about it is the rubber protective sleeve for the microphone plug, it doesn't quite fit as snugly as I would like. The faceplate is removable and a standard Cat5 cable extends from the unit quite effectively. Programming software only took a few minutes to figure out,and it was quite literally plug and play. Being able to adjust all of "default" power on settings through the software is nice. Programming through the nobs/controller pad is not impossible, just a little time consuming. I'm not an expert when it comes to reporting on frequency drift etc etc, however with some basic tests on a home built j-pole antenna, I'm getting good audio quality reports on transmit, and fairly decent audio quality on receive both on UHF and VHF. Only one wish list item, would be a courtesy tone on transmit with the crossband repeater function. My current frequencies programmed are both Wide band HAM and narrow band Public Safety, and the radio sounds good on both. -N3DEW


Great Radio
By George
Having been a ham for 32 years and also having owned many VHF/UHF radios of most every brand I am truly impressed with this unit. The transmitter output equals or exceeds specs and the receiver is very hot. I have had NO intermod. I have tried it on receive in the ham bands and public service as well as the 220 Mhz receive and it is impressive. Add to this 700+ memory channels and cross-band repeat and you simply cannot beat it, price not even considered. If you consider the price, well, you will be more than satisfied. Now to customer service. Ed and Import Communications is certainly a rare breed. You will never have an issue ignored, neglected or left by the wayside. And he and his entity will be completely fair and super fast in their actions and response. In this day of pay, wait fuss and where you are just a number, Ed has raised the bar to what it should be. It boils down to trust and a willingness to help. Ed and his company do that and more. If you think you can get a radio a few bucks cheaper from "overseas" well you can. Would I do it? NO! The savings are NOT worth the security of having Import Comm. just an email away. 73, George N5NNS (N5 No Non Sense)


Better than I expected!
By Michael
Received radio, programmed via factory software and via Chirp with no issues. Worked my local repeaters with reports of very good audio. Even worked .52 simplex stations that I couldn't work with other mobile radios. Great communication from Ed made this purchase a very pleasing experience.


Great Radio
By James R
I also have a Yaesu FT-7900 with single display....Love theAT 5888 UV radio with the alpha numeric display instead of just the frequency...As soon as I am able I am going to purchase another and sell my Yaesu...


Works Great
By Richard
I received the radio and on a quick look of the Manual I thought OMG!! Am I ever going to be able to figure this thing out? Well, after diving in itís not that bad. The programing is fairly straight forward. Install in my vehicle was much simpler than other radios Iíve installed in the past and it seems to be working great so far. The audio is better than many very expensive radios Iíve had in the past including the big ďMĒ brand. On transmit I have had on reports of any signal issues and it hits all the repeaters I need throughout the Valley. All in all a great little radio for a great price. I wish they had these out years ago because they would have landed in every piece of apparatus in our station. BTW Ė Ed is great to deal with and very responsive to the customers.


Create a review
.
Account Login
Mailing List Signup